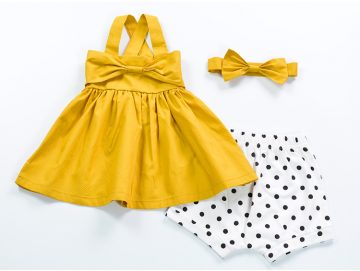 The mustard tone of this beautiful dress is just perfect for your backyard barbecue or any Sunday brunch. Your mini fashionista will absolutely slay in this outfit. The curated crinkles on this dress give the perfect perception of style and grace. The graceful tone of this one of a kind piece will liven up you and your little ones day. Feel the joy that a bright color can bring into your life.
The polkadot diaper cover is the perfect combination to this lovely spring dress. The sleek and stylish look of this will make your mini-me shine bright with charisma. With this piece, you will have no problem finding a matching dress for yourself. In no time, you and your Cutie Pie will be strutting the town in matching dresses.
Your fashion style will cross over to your baby girl with this one. The cotton blend makes for a comfortable fabric that is breathable, and light enough to make your summer more casual and carefree. Run down the beach, or take family photos. This dress is a versatile piece that will provide endless options for you and your baby girl.